What makes Evado Studios so successful?
Business model
Our strategic planning has enabled our rehabilitation and fitness services to run seamlessly under one roof. Our points of difference insulates us against competitors in the health and fitness industry.
Philosophy
Grow your studio with like-minded clients that are inspired by Evado's mission:
"to give people the belief & confidence they can take their health to the next level"
Reputation
Our ongoing emphasis on excellent customer service aims to build an outstanding brand reputation in the local community. It's for this reason that forty percent of new referrals come from existing clientele.
Staff retention
Satisfied and loyal staff forms the backbone of a successful small business. Our focus on staff mentoring, professional development and ongoing support ensures staff engagement.
Resources
Providing the best equipment and IT systems in the health and fitness industry empowers staff to perform at their best. This is achieved in a modern and design inspired studio fit-out.
Systems
Regardless of your business experience, our induction training and ongoing support 'breaks-down' the essential components that help run a successful business.
---
How can we help?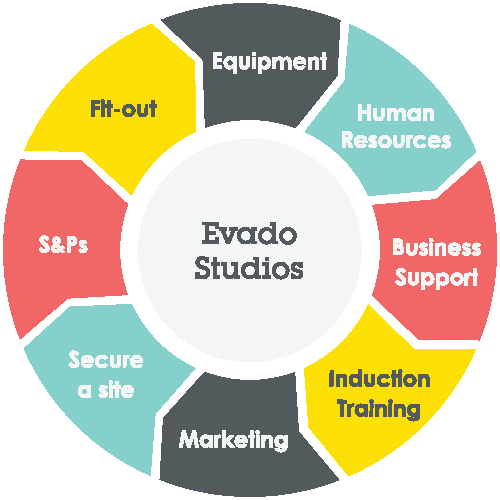 Involvement in each of the following critical stages ensures new directors feel
supported throughout the challenging setup phase
Site location including analysis of key demographics and competitors
Lease negotiations and council permits
Design and layout guidelines to ensure the site has the 'Evado feel'
Preferred builder relationships resulting in an efficient fit-out period
Furniture and equipment ordering
Assistance with finance applications and introduction to preferred lenders
Induction training of systems and processes to ensure your studio runs smoothly and according to our protocols
Pre-launch marketing material and guidelines
Human resource assistance through interview guided templates and employment contracts
Ongoing business mentoring and support once your studio is launched
Are you ready to take the next step?
Making the decision to launch a business is a life changing experience. It is an exciting period, yet without its risks. When starting from scratch, one of the biggest challenges with any small business is building an identity of credibility and trust. In the healthcare and fitness industry, trust is everything.
Evado Studios has established a strong brand in the healthcare and fitness industry for nearly a decade. With a proven track record, we have minimised the stress and guess work that comes with launching a new business. All that is required is you to nurture it.
If you are passionate about your job and customers, we are confident that our model will allow you to run the best business possible.
At Evado Studios, we subscribe to the motto "In business for yourself, but not by yourself".
Interested?
For a confidential discussion and to receive more information, please submit your enquiry to Frank Care (Director) at fcare@evadostudios.com.au or call 0411 148 121.